Importance of early diagnosis


Early detection of Atrial Fibrillation is important to ensure prompt and adequate management which not only aims to control symptoms but to avoid later complications.1
As AF progresses, patients are more likely to experience greater impairments in their quality of life, such as increased pain and discomfort. Early detection and appropriate management reduce stroke risk by two-thirds.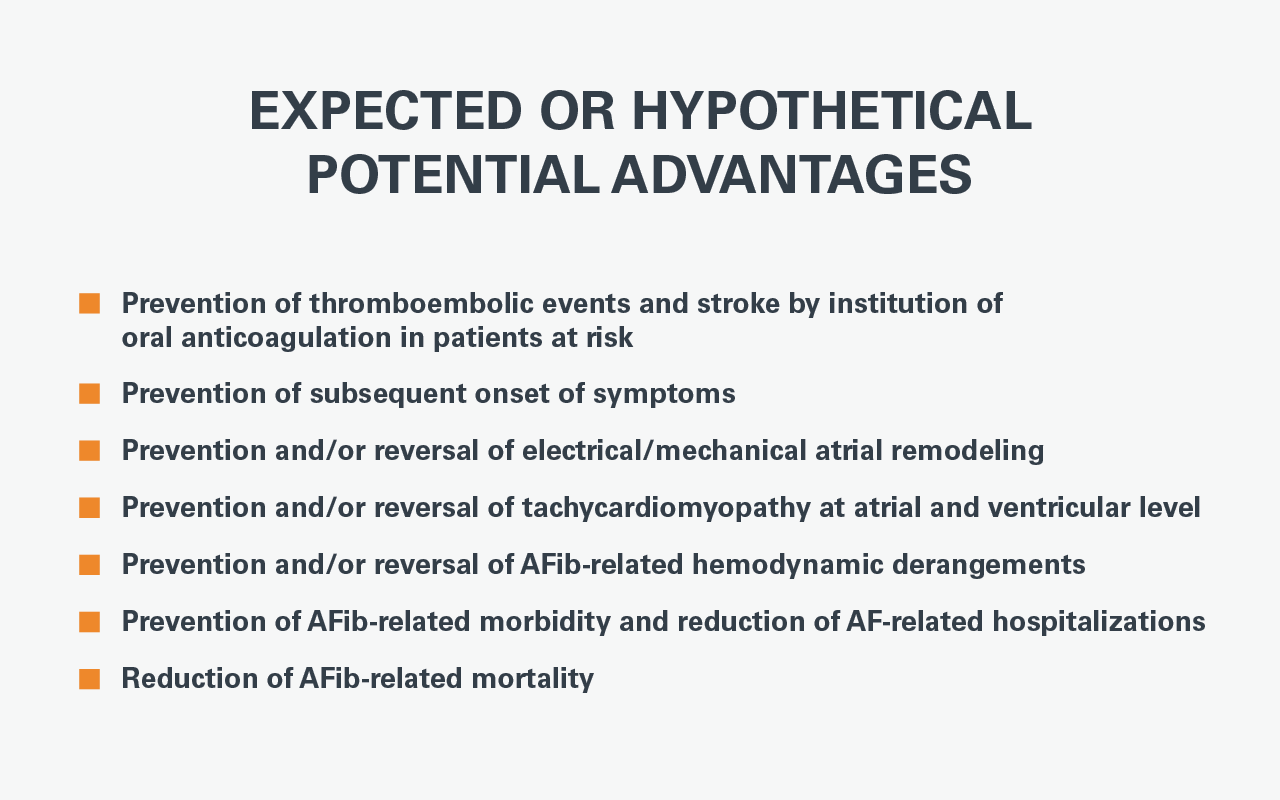 Early detection of Atrial Fibrillation (AF or AFib) is important to ensure prompt and adequate management, which not only aims to control symptoms but to avoid later complications.1 

Timely intervention is important to prevent the progression of AF. For 20% of patients, it typically progresses from intermittent to persistent AF within a year of diagnosis.2,3 As it progresses, it can result in structural remodeling of the heart making it harder to treat.4

With disease progression, people with AF are more likely to experience more severe mobility problems, issues with self-care and increased discomfort and depression.5 Also, long history and duration of AF has also been associated with recurrences of episodes.6  





Atrial Fibrillation increases a patient's risk of life-threatening complications, such as stroke, heart attack, and heart failure. AF is also independently associated with a significantly greater risk of mortality: patients have a 46% greater risk of mortality than patients without AF7,8  and the rate of mortality is 40% among new patients diagnosed with AF.9 Around 15-30% of patients are asymptomatic, which is of concern as AF is a major risk factor for stroke. Early detection and appropriate management reduce stroke risk by two-thirds. 








References
1. Kirchhof P, Benussi S, Kotecha D, Ahlsson A, Atar D et al. (2016) 2016 ESC Guidelines for the management of atrial fibrillation developed in collaboration with EACTS. Eur Heart J 37 (38): 2893-2962. 2. Nieuwlaat R, Prins MH, Le Heuzey JY, Vardas PE, Aliot E et al. (2008) Prognosis, disease progression, and treatment of atrial fibrillation patients during 1 year: follow-up of the Euro Heart Survey on atrial fibrillation. Eur Heart J 29 (9): 1181-1189. 3. Schnabel R, Pecen L, Engler D, Lucerna M, Sellal JM et al. (2018) Atrial fibrillation patterns are associated with arrhythmia progression and clinical outcomes. Heart.Oct;104(19):1608-1614. 4. Van Gelder I C, Hemels M EW (2006) The progressive nature of atrial fibrillation: a rationale for early restoration and maintenance of sinus rhythm Europace  8, 943–949. 5. Dudink E, Erkuner O, Berg J, Nieuwlaat R, de Vos CB et al. (2017) The influence of progression of atrial fibrillation on quality of life: a report from the Euro Heart Survey. Europace. 6. Pathak RK, Middeldorp ME, Lau DH, Mehta AB, Mahajan R et al. (2014) Aggressive risk factor reduction study for atrial fibrillation and implications for the outcome of ablation: the ARREST-AF cohort study. J Am Coll Cardiol 64 (21): 2222-2231. 7. Odutayo A, Wong CX, Hsiao AJ, Hopewell S, Altman DG et al. (2016) Atrial fibrillation and risks of cardiovascular disease, renal disease, and death: systematic review and meta-analysis. Bmj 354 i4482. 8. Boriani G, Proietti M (2017) Atrial fibrillation prevention: an appraisal of current evidence. Heart (0):1–6. 9. Zoni-Berisso M, Lercari F, Carazza T, Domenicucci S (2014) Epidemiology of atrial fibrillation: European perspective. Clin Epidemiol 6 213-220.
113954-190718 EMEA; 115115-190526 EMEA; 115114-190526 EMEA; 095103-180713 EMEA; 101640-181029 EMEA; 094573-180706 EMEA; 115113-190526 EMEA; 115110-190524 EMEA; 116706-190614 EMEA; 126680-191029 EMEA; 123104-190912 EMEA; 125888-191019 EMEA