ESC Guidelines in a nutshell
Find everything there is to know about Atrial Fibrillation in line with the 2020 ESC Guidelines by clicking through the different screens. 
MANAGEMENT OF AF PATIENTS
The 2020 ESC/EACTS Guidelines recommend a structured approach to the diagnosis, characterization, and treatment of AF, known as the Confirm and Characterise To Atrial fibrillation Better Care (CC To ABC) pathway.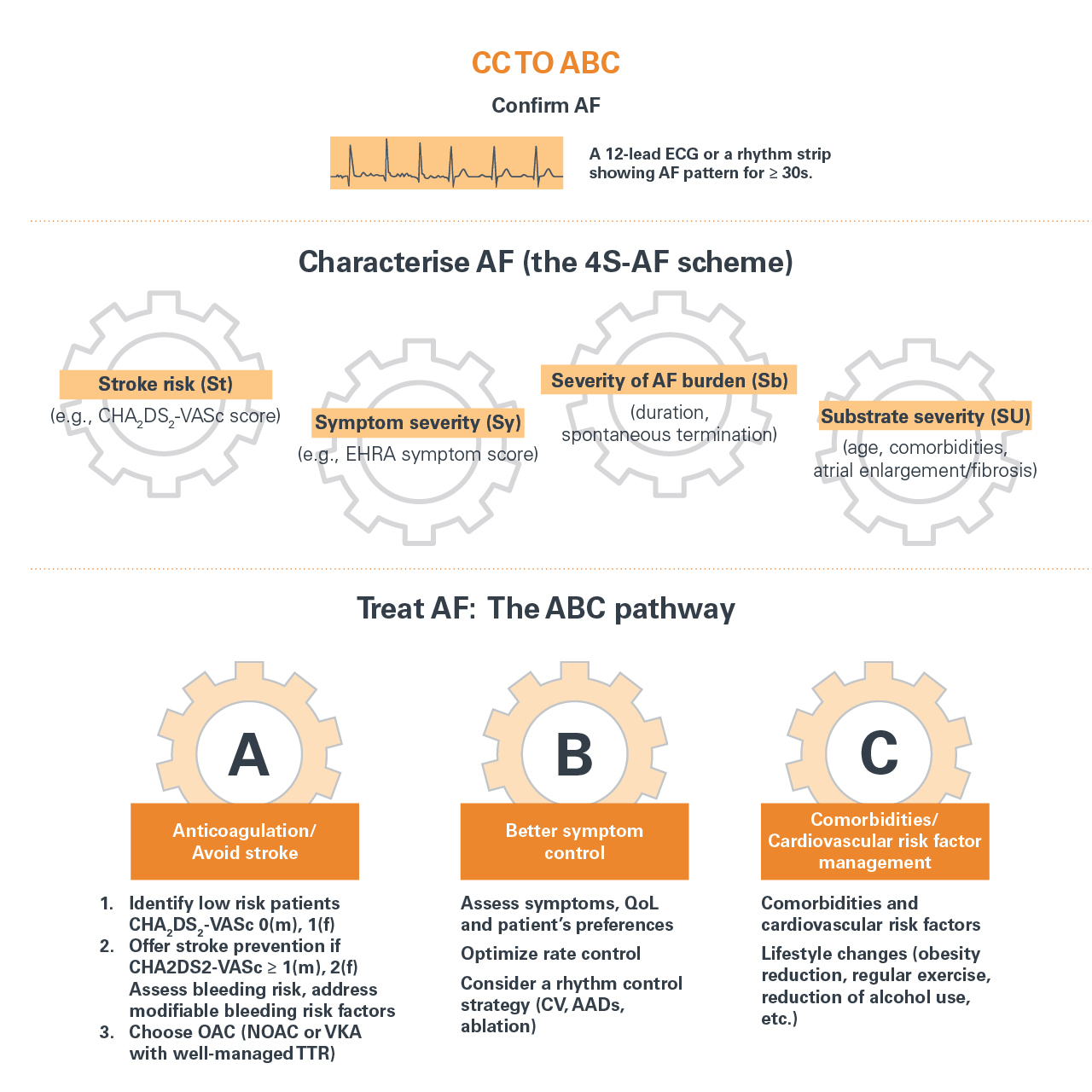 Summary ESC Guidelines, available for download
The European Society of Cardiology (ESC) developed and published in 2020 updated guidelines for the diagnosis and management of Atrial Fibrillation. These were developed in collaboration with the European Association of Cardio-Thoracic Surgery (EACTS) and special contribution from the European Heart Rhythm Association (EHRA) of the ESC.
Atrial fibrillation (AF or AFIB) poses significant burden to patients, physicians, and healthcare systems globally. Substantial research efforts and resources are being directed towards gaining detailed information about the mechanisms underlying AF, its natural course and effective treatments and new evidence is continuously generated and published. The complexity of AF requires a multifaceted, holistic, and multidisciplinary approach to the management of AF patients, with their active involvement in partnership with clinicians. Streamlining the care of patients with AF in daily clinical practice is a challenging but essential requirement for effective management of AF.
The 2016 ESC AF Guidelines introduced the concept of the five domains to facilitate an integrated structured approach to AF care and promote consistent, guideline-adherent management for all patients. The Atrial Fibrillation Better Care (ABC) approach in the 2020 ESC AF Guidelines is a continuum of this approach, with the goal to further improve the structured management of AF patients, promote patient
values, and finally improve patient outcomes.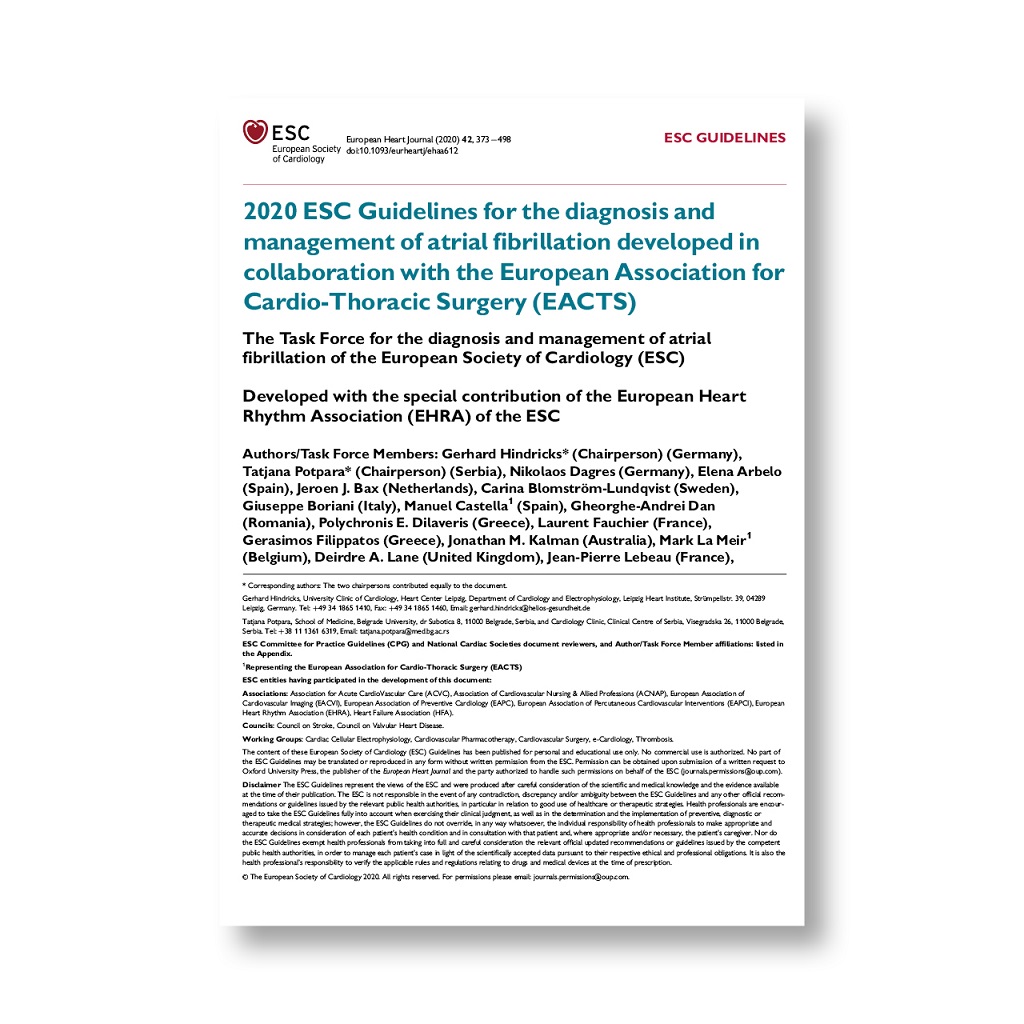 2020 ESC Guidelines for the diagnosis and management of atrial fibrillation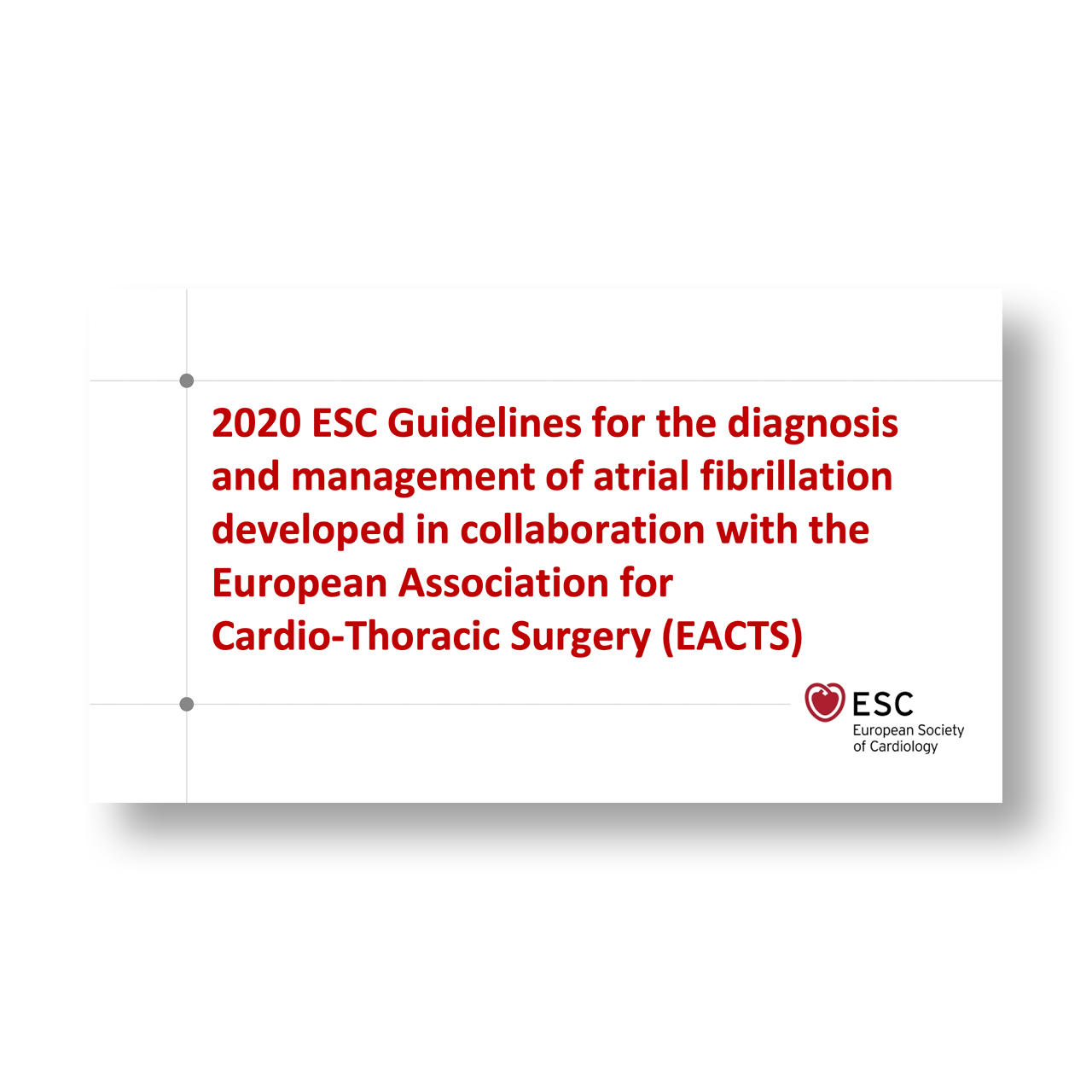 2020 ESC Guidelines for the diagnosis and management of atrial fibrillation
References
European Heart Journal – doi: 10.1093/eurheartj/ehw210
Disclaimer
The third party trademarks used herein are the properties of their respective owners.
113954-190718 EMEA; 115115-190526 EMEA; 115114-190526 EMEA; 095103-180713 EMEA; 101640-181029 EMEA; 094573-180706 EMEA; 115113-190526 EMEA; 115110-190524 EMEA; 116706-190614 EMEA; 126680-191029 EMEA; 123104-190912 EMEA; 125888-191019 EMEA